During the 55th edition of Salone del Mobile in Milan, Sicis exposes its luxury living. The research developed during the last years, has created the graceful and refined Sicis lifestyle, composed by lighting, furniture and fabrics. The Mosaic art is enriched with new shapes and precious materials and allows a unique interior.
The journey starts with a panel made with platinum and marble cut into oval and circles shapes, mink and mother-of-pearl inserts. On the floor, visitors can admire the fabolous design from our SicisStone collection made with marble and brushed murano glass.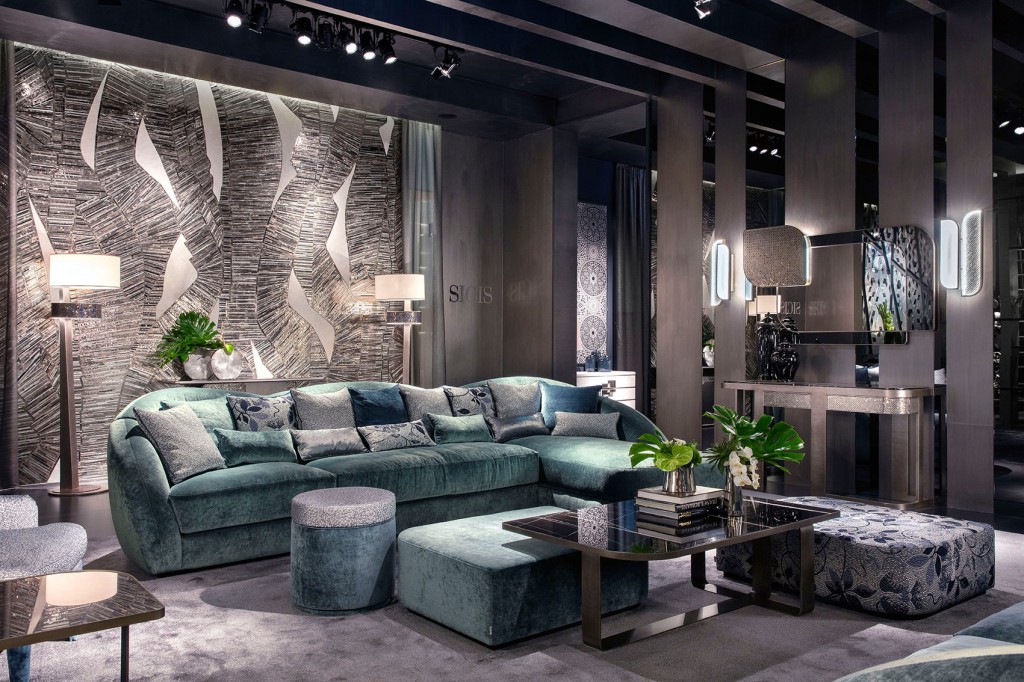 The first room is decorated entirely with the Diamond Collection: sofas, armchairs and a low table with artistic mosaic inserts. On the walls, an original composition of mirror that become also the background for a huge wall clock.
In dining space, a rectangular table with Lemourian blue marble on top, Venezia chairs covered with Sicis Fabrics and Fluxus madia and buffet. On the walls two panels from Art Couture collection, Caldera and Flame Mirage, representing the decorative power of artistic mosaic and the innovation on the use of materials.
Following room houses Visconti Collection, a well-tuned composition of sofas, pouff and low tables. In the same space, a big artistic mosaic panel from Art Couture collection, Cygnus, made with aluminium and platinum stick, Colibrì and horse skin inserts. On the other part of the wall, Sicis fabrics which patterns are inspired by the most iconic Sicis mosaic collections.
Finally, Casanova bed, Valmont bedside tables and Cornelia armchairs again with fabrics pattern designed by Sicis. Behind the bed a wonderful black glass wall that match perfectly with the sauna recreation.
Sicis proposes contemporary solution for interior, communicating its own eclectic lifestyle.