SICIS – The art mosaic factory chooses Cersaie 2012 to persent its glass and marble mosaic masterpieces, the result of a venerable art which, over the centuries, has written its history: from the stately homes of antiquity to our times.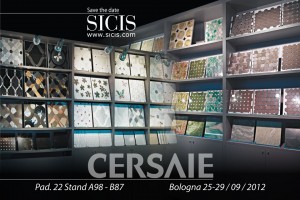 "Build, live, think". This is the slogan that has accompanied CERSAIE, the international Expo that Bologna dedicates to Ceramics for Architecture and Bathroom furnishing for years. An important context where the new trends in this sector are presented, the time-honoured pride of Italian industry.
And when the future is today, the leading player is called SICIS The Ar Mosaic Factory, the company that, in recent years, has astonished all with its ability to reinvent itself in a increasingly different ways.
The marble mosaic, the most natural in terms of brilliance, has the ability to absorb light and reflect it in a unique and precious splendour. The glass mosaic, from the rich tradition and fully manufactured in Ravenna, is reintroduced by SICIS in the iridescent and gold version, on display in its most elaborate adaptations according to the artistic technique, where each tile is cut and laid by the expert hands of mosaic masters, on in panels created with the same valuable materials but whose patterns and designs are created with even tiles to provide a modern pixel effect.
Extremely different interpretations, in designs and colours, that amaze all for their spirit and majesty. From the intense luxury of Cosmati, balanced opposites and inimitable counterpoint, to the gentle shades and tone on tone effects. They cross the entire colour range, from translucent white to sparkling black – crossing gold, red, green and blue – it is a triumph of geometries, sophisticated combinations, weaves and embroidery; a shimmer of stars, flowers, arabesques even Oriental reminiscent goldfish, fans and dragons.
The art of conceiving shapes and colours thus come to life in new adaptations, all inimitable, created with absolutely innovative techniques. On the floor, marble and decorations in iridescent dark green shades, with hints of violet and blue, speckled with mirrored and precious, black and coloured butterflies.
All this awaits you at stand A98, B87 in pavilion 22 – CERSAIE