Another important date for SICIS, another capital city to add to the list of cities housing their showrooms. This time it's Tokyo. The doors to the new showcase of the Italian house of fine artistic mosaics open in the futuristic district of Minato.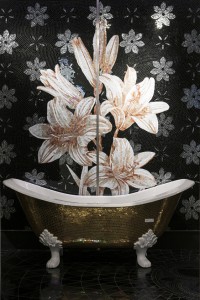 Mosaics that come to life in every guise, even transformed into furnishing accessories, combining art with the ancient technique of mosaic. An open space of 150 sqm in which to display the most important collections, splendid interpretations of a distant language, bringing vibrations and lights, sounds and colour. A juicy taste of SICIS's versatile work, brought to Japan for the first time.
Cosmati, elegant floors inspired by the works of the Romanesque dynasty of the same name. Arabesque geometries in marble and iridescent glass mosaic tiles, an alternation of glossy and opaque surfaces, which divide and unite in pure shapes, designing the space till the surface is filled. PixAll, whole tile decoration, like many specks of light, small square elements opening into an infinity of patterns, from flowers to birds and waves to stripes; coloured glass, but also gold, platinum and silver. Flower Power panels enlight the enviroment with shining colors.
But SICIS have pushed themselves beyond architectural decoration to create the luminous spheres of the Atmosphera collection, lit up with coloured fragments of a thousand variegated facets illuminating the space. Then the beautiful Alba bathtube covered in exquisite colored tiles, defining an autonomous object which is no longer restricted to the bathroom, its traditional setting.
SICIS Showroom Tokyo,
Mille Roches' Building B1
5-3-5 Minamiaoyama, Minato-ku, Tokyo, Japan