In October, SICIS inaugurates a showroom, in Beijing, China. The Italian maison is delighted to announce an agreement signed with the distributor for the market in Beijing, Di Lusso Gaopin (Beijing) Design Co. Ltd.
The showroom, situated on the third floor of a building in the heart of Beijing, extends over a 600 sqm single-level area. Its rooms will present the magical universe of mosaic art as interpreted by one of the world leading manufacturers, Sicis, and the most sophisticated design works. The interior design of this project has been entirely realized by Sicis in partnership with Studio Marco Piva.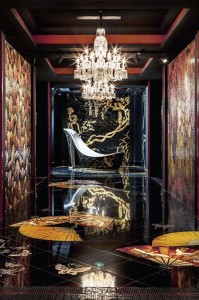 In the Beijing SICIS showroom, the evocative power of mosaics leads to a unique sensory experience that perfectly portrays the complex world of Sicis. This exclusive paradigm, dictated by a mixture between ancient Chinese elegance and all-Italian quality and know-how, provides the Chinese market with a truly exceptional service.
Through the partnership with Di Lusso Gaopin (Beijing) Design Co. Ltd, SICIS sets out to strengthen and further consolidate the company's reputation, synonymous with quality, research and Italian creativity, in Beijing, displaying brand new mosaics and presenting a heterogeneous and imaginative collection inspired by the magic of the Orient.
Sicis Showroom Beijing: Building 4, No 139, Chaoyang Road, Chaoyang District, Beijing