SICIS, the Art Mosaic Factory, is pleased to announce their partnership with GF+A, entitled to be the exclusive distributor of the Italian brand in the Singaporean market with a large, prestigious shop in shop.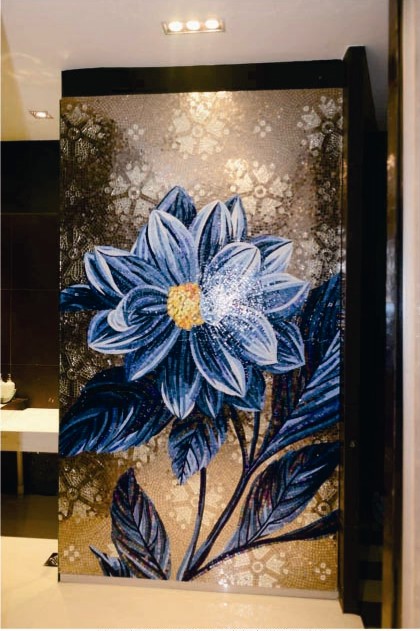 Located at 24 Mohamed Sultan Road, near the iconic Robertson Quay area in the elegant River Valley area, the space is hosted in a historic Chinese shop house, protected by Singaporean Government for its rich historic, heritage and architecture values.
SICIS shop in shop in Singapore is an elegant presentation of SICIS mosaic collections to meet the requirements of client's projects in terms of space, purpose and budget available.
Orientale, Skyline, Flower Power, SiciStone, PixAll, Neoglass: SICIS amazing mosaic works adorn the store. Predominant cold, metallic colours in black & white, grey and blue tones characterize the space: different materials were used, from black marble with iridescent hints on the floor, to unique mosaic panels in a shimmering, modern look on walls.
Glass, silver, marble and other precious stones adorn the space with their iridescent and shimmering tesserae even in the bar area.
Mosaic panels depict metropolis skylines, flower compositions and geometric patterns. Abstract or figurative decorations realized using SICIS typical pixelated and artistic technique, the latter realized entirely by hand in Italy where SICIS mosaic masters cut and place every single tessera by hand.
The 100% made in Italy SICIS brand consolidates its presence in Singapore with an elegant space and reinforces the bond between Italian culture of luxury mosaic and the ancient, Asian culture of artistic decoration, with the objective of consolidating a company whose name is synonym for quality of mosaic art, in Singapore.
SICIS shop in shop Singapore
24 Mohamed Sultan Road
Cocktail Party + DJ set
18th March, 2014 – 7 PM to 10 PM