Official launch of the furniture collection SICIS NEXT ART Chapter Two, Theodora Collection, designed for Sicis by Mr. Christian Lacroix at India Design Forum.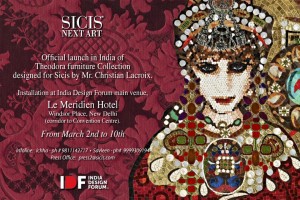 SICIS Next Art will take part of this exclusive event as an official sponsor. During this occasion the Italian maison of mosaic art and high-end furniture will present a new, sophisticated furniture collection.
A weeklong design trail in the centre of New Delhi will take place from March 2nd to March 10th. It's IDF: India Design Forum, where Indian companies as well as international brands celebrate design and innovation in India.
IDF's main venue will be the luxurious hotel and resort in New Delhi, Le Meridien Hotel, whose areas such as the lobby, reception and fountain, were remodelled with SICIS's precious contribution in collaboration with one of India's largest Interior Design firms, Bobby Mukherji & Associates, a few years ago.
SICIS Next Art will showcase an installation of three items designed by Mr. Lacroix, four elegant marble mosaic panels, a Theodora artistic mosaic panel, and a magnificent Orientale panel.
SICIS Next Art, revered for exceptionally exquisite Italian mosaics 100% made in Italy continues to entice by preserving admirably high artisanal standards and seeking out cutting edge technology. Enviably innovative, Sicis' new collaboration with Mr. Christian Lacroix highlights this. Hailed as a fashion world genius, he always charged haute couture with his magical, whimsical charm and his extraordinary gift for colour. As can be imagined, all of Mr. Christian Lacroix's fabled talents have been poured into his Sicis home furnishing collection.
SICIS is looking forward to welcoming design lovers and connoisseurs to this unique SICIS Next Art Chapter 2 installation.
India Design Forum Le Meridien Hotel – Windsor Place (Corridor to Convention Centre).
March 2nd – March 10th, 2012.