SICIS Jewels opens a new showroom in Paris to premiere its handcrafted micro and nano mosaic jewels and watches.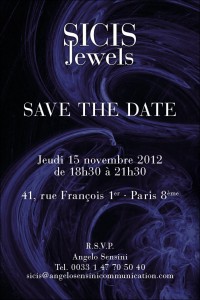 After three years spent studying the history of micro mosaic jewellery, the new brand was first presented at Baselworld, in March, and at Couture, Las Vegas, in June 2012. Now, SICIS Jewels is to open its first boutique, in October this year, in 41, Rue François 1er, in the triangle d'or of the historical capital of luxury.
It is from Ravenna – the mosaic capital of the world and the capital of the Western Roman Empire from the 5th to the 6th century AD – that SICIS Jewels has drawn its inspiration for its mosaic art and for its micro mosaics, mounted on gold and with diamonds to become a precious element of unique works of art.
Threads of pure gold expertly cast by SICIS with nine coloured glass pastes give rise to an infinite array of hues for nano tesserae that serve as a code to decipher the universal language of micro mosaics, an ageless art that has marked the history of man.
The SICIS passion for mosaics and its universally acclaimed style have encouraged exceptional designers of the calibre of Roger Thomas, with whom the company has already collaborated for the Wynn and Bellagio Hotels in Las Vegas, to put forward designs for SICIS Jewels. The collections designed by Roger Thomas for SICIS Jewels and SICIS O'Clock provide an original interpretation of Ancient Rome, in the eyes of a contemporary designer of excellence.
SICIS Jewels sets out to narrate its entire history through its new Paris store, a boutique revealing the company's DNA deeply rooted in ancient history.
SICIS Jewels
rue François 1er, Paris