What better stage if not Las Vegas with all its sparkle to present SICIS Jewels to the American market? SICIS Jewels joined Couture, jewelry show in at Wynn hotel.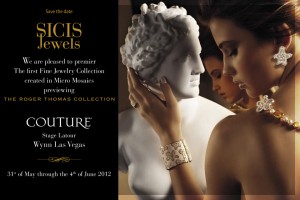 The luxury Italian Mosaic Company, SICIS proudly displays its latest collection of jewels crafted in micromosaic, using an unprecedented jewelry technique. A unique symbiosis between precious stones and minute pieces of mosaic, an art of the 18th century which SICIS has rediscovered and reinterpreted in a contemporary key. Micromosaics in tiny micro tesserae are created using enamel streak, hand crafted through a fusion of nine different mother inks, in order to create an infinite variety of hues of color, just like in ancient times. All this art is hand made.
Tens of thousands of micro tesserae become a unique precious element together with diamonds, emeralds and other precious stones set in a gold bed designed by SICIS. It was a substantial investment driven by passion, which also involved years of historical and bibliographic research and the desire to develop. Today this project is available on www.sicisjewels.com.
The undertaking was a huge commitment made by a tight team working together in perfect synchronicity: researchers, designers, mosaic art masters, goldsmiths, gem setters and jewelers. Additionally, the famous interior designer Roger Thomas created a special collection for SICIS Jewels.
Mr. Thomas, the creative force behind the interior design of Wynn Las Vegas, realized this unique work of art with SICIS mosaic.His creative style gives birth to geometric patterns and a perspective of an aesthetic vision that is a perfect balance of shapes and colours.
On May 31st, Roger Thomas and Maurizio Leo Placuzzi, founder and president of SICIS, will be present at Stage Latour for the inauguration of Sicis Jewels at Couture in Las Vegas.
Rings, charms, necklaces, earrings, watches, cuff links. As you've never seen them. A rainbow of colourful stars and tiny stars which the eyes are enraptured by as the designs are unveiled. Jewelry made out of flowers, butterflies, leaves… a subtle intertwining of light and colour. These pieces go beyond language, and are truly unique.
Thus after architectural decoration and design, SICIS always continues to research the art of an object that is not in the world yet, revealing how mosaic art can go beyond the imagination.
New lights sparkle in dazzling Las Vegas; the sparkle of micro mosaic jewelry.
SICIS Jewels – Couture
Stage Latour
Wynn Las Vegas
From May 31st to June 4th.