SICIS projected and realized the amazing Spa of the Crown hotel in Melbourne. SICIS installed beautiful mosaic panels that make this ambience simply unique.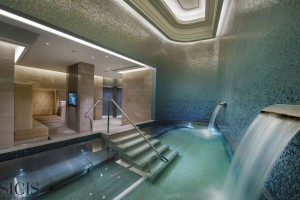 Mosaic was used both for floors and for walls, following curvy lines when necessary. Light aqua tones or blends with iridescent, blue-light blue tones, up to dark, black mosaic for the hammam areas. Entire wall of SICIS mosaics graduates in colour from a deep ocean blue to turquoise and mother of pearl. Crown Spa exclusively partnered with Swiss beauty company, La Prairie to deliver excellent quality.
Designed by Singapore-based architect and interior designer Michael Fiebrich, Crown Spa features a shooting palette of pale blues, greens, and neutral tones inspired by nature. The use of organic elements, natural materials and jewel tones are combined to create a sense of peace and restoration. Exquisite richly coloured finishings, textures, artwork and handmade furniture feature throughout.