SICIS celebrates the opening of the first Italian SICIS Jewels boutique inviting its friends for a coktail in Via della Spiga.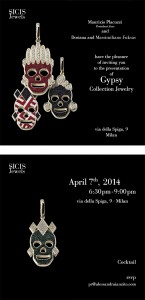 The event aimed to launch the new SICIS Jewels collection Gypsy designed by Massimiliano and Doriana Fuksas. SICIS, a significant brand and world-wide leader in mosaics and architecture, turned to prominent exponents of the international design and architecture scene, to collaborate and interpret the art of micro- and nano-mosaic: resulting in unique jewelry and timepiece collections, taking this ancient fine art from the 18th century to the next century, from ancient history to the future. It's exactly from of these collaborations that the new "Gypsy" Collection was born, especially designed by Massimiliano and Doriana Fuksas for SICIS Jewels.
These pieces are innovative in terms of technical content, in terms of interpretation of the value of micro-mosaic and also as an intrinsic meaning of every single object. This is because Massimiliano and Doriana Fuksas reinterpreted and projected ancient symbols usually linked to ancestral and mysterious worlds into our modern and contemporary life. Symbols like the Tuareg Cross, or the happy charms which dangle like droplets of light, hanging from gold or precious stone bracelets and chains. Then there are the necklaces, jewelry of rare quality that range from abstract to figurative and symbolic, conveying age-old emotions in contemporary objects.
A visit to SICIS Jewels Boutique on via della Spiga is an unprecedented experience filled with inimitable art to admire and appreciate.