SICIS Next Art reveals at Salone del Mobile new pieces from the collections Chapter One and Chapter Two designed by Carla Tolomeo for Sicis.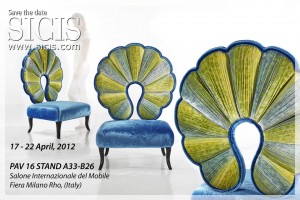 It has been two years since SICIS presented the then nascent NEXT ART, a division dedicated to the most exclusive art designs, for the first time, on the occasion of the 2010 Furniture Salon. And two chapters have already been written about this fantastic story, as simple as their emblematic titles–Chapter One and Chapter Two. They are full of seductive voluptuousness: armchairs, sofas and loveseats, chaise longues and ottomans, but also complementary furnishings such as lamps and tables.
There are the magical eastern moons of memory, the spirals of serpents or shells, gigantic roses that close up, butterfly wings that hover, there are leaves and hearts that intertwine and climb over one another, and large hands indicating the direction to take. The mosaic inserts add colour and light, reverberation on reverberation, sumptuous fabrics in brocade or silk velvet covering the backs express the heritage of the old artisanal techniques. For the seats, on the other hand, anti-tear techno fabric or very resistant natural cowhide.
Touches of vigorous colour, interspersed with soft yet vibrant light, platinum and silver shades, dotting an even larger stand. The paving in SICIS- signed Baltreo Glass mosaic interplay to create an evanescent ambient, where total white prevails.
But the interior goes beyond its edges: with NEXT ART, it becomes the star of urban spaces as well. So as its name suggests, the next art to come, it is a precursor to ever different narrative paths. Always a step beyond, it doesn't represent the continuity of a design as much as a bold challenge.
Milan, 17/22 April2012 – Milan Fair Rho
Appointment at Pavilion 16, stand A33-B26