SICIS at the Salone del Mobile 2014 dedicates its stand to bathroom furnishings, like a spectacular divide separating it from all the rest. The SICIS world is one of sophisticated elegance.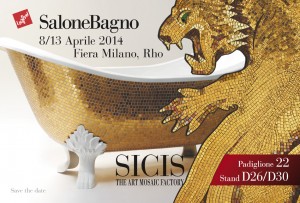 The majestic forms of tigers and dragons stand out in gold mosaic on the neoclassical architecture of the SICIS stand dedicated to bathroom furnishings, like a spectacular divide separating it from all the rest. The SICIS world is one of sophisticated elegance. To be seen. And to possess.
Through the fil rouge of a refined oval marble floor, the central space echoes the exterior architecture and presents four different wellness rooms.
SICIS expresses glamour and style in all possible permutations. The first room is defined by Audrey, an iconic bathtub shaped like a shoe with an exceptionally high heel, making it light, slim and sensual, embellished for the occasion with an abstract decoration in gold. On the walls, we find highly refined, warm and welcoming panels, also in gold. This new concept will soon become the cutting edge of the SICIS artistic mosaic collections, which will be made exclusively with mosaic tiles in gold, platinum and a few mirrored and silvery tones from the Colibrì Collection.
The second room was inspired by the classic tradition of Byzantine mosaics in Ravenna, specifically the wall decoration in the basilica of San Vitale, with an evocative reinterpretation of the Empress Theodora, the SICIS muse, in sparkling glass, gold and mother-of-pearl mosaic. This serves as background for the most retro of the SICIS bathtubs, Maxima, covered in 24 kt. gold mosaic tesserae. Completing the vision are a marble washbasin and the Medea chandelier, evoking mythological magic in burnished brass, fabric and fringe. The floor is a classic artistic marble design from the Bisanzio collection.
The third space is distinguished by the pairing of black and white decorative elements, including marble, mosaic and black glass. The star of this room is an energy-filled mosaic panel illustrating an explosion of flowers, from the Flower Power collection. The range of materials involved plays on an expert alternation of transparent, semi-transparent and iridescent mosaic tiles. The differing material consistencies creates a variety of reflections and colors that increase the flowers' vibrancy and three-dimensionality. The matching bathtub, Sultan, is rigorous in its princely allure, with rhombus shapes chasing after one another in shades of black and white.
The fourth and final room is a space elegantly decorated in all-white, featuring white marble and glass with mirrored details. In the center, the Denver bathtub, a restrained design with gentle lines, is embellished with fresh white-on-white decorations.
Fiera Milano Rho – Salone Internazionale del Mobile – Hall 22, Stand D26/D3- Milan, April 8–13, 2014