SICIS the Italian maison of mosaic is going to launch the new division of SICIS Jewels at Baselworld 2012. The jewels and watches are handcrafted in micromosaic accompanied by precious materials.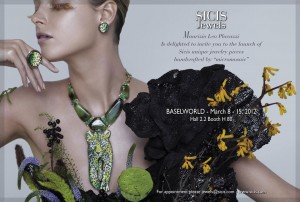 SICIS established in Ravenna in 1987, has long been an innovator and incubator of extremely versatile ways of using mosaics, from its roots in mosaic art in architecture to today, micromosaic jewelry. Founder and president of SICIS, Mr. Maurizio Leo Placuzzi, says: "mosaic has always been the ink that writes our story, following the same fil-rouge, SICIS is now reinterpreting micromosaic, one of the most ancient and elaborate techniques in jewelry manufacturing".
Micromosaic application to the goldsmith's art goes back to the ancient XVIII Century micromosaic tradition, in Rome. This meticulous, elegant art became so much in vogue throughout the years that such jewels were admired and desired, amongst other aristocratic occasions, during Napoleon's wedding with Marie Louise of Austria. SICIS Jewels project involved years of historical research leading to the establishment of a workshop for the study of micromosaic art, refining and transforming the techniques SICIS has used since it was born. Centuries later, SICIS Jewels is paving new artistic paths reinterpreting micromosaic from an absolutely original tradition; transmitting ancient emotions into a contemporary object through innovative techniques, some of which created exclusively by SICIS.
To increase the magic, SICIS Jewels mosaic masters met with goldsmiths and precious stones specialists: the mix of ancient tradition, a contemporary touch, precious materials and exclusive techniques, enabled SICIS to fashion a design of a truly rare mastery and give rise to unique and exclusive items, and so broaches, cufflinks, necklaces, rings, pendants, earrings and watches were generated and now they illuminate the jewelry world with precious fragments of light and color.
For this unique project, SICIS founder Maurizio Leo Placuzzi also called on one of the world's best-known interior designers: Roger Thomas, with whom SICIS has collaborated on high-end architectural projects such as the Wynn and the Bellagio in Las Vegas.
Roger Thomas designed his first collection of micromosaic jewelry for SICIS Jewels with emphasis on the geometry and perspective of his vision. The intrinsic versatility of micromosaics reveals how SICIS' new interpretation of ancient micromosaic jewelry-making techniques is given numerous forms in different disciplines, offering innovative techniques such as Thomas's.
The stand
SICIS Jewels stand will be characterized, as always, by a total luxury look: elegant black and gold Cosmati marble floors will be combined with precious true gold artistic mosaic panels, 100% hand made in Italy, as per SICIS' most pure philosophy: the perfect context to highlight SICIS' magnificent jewelry collection.
Ancient emotions come back to life in a contemporary style through SICIS, the unique and exclusive designer and manufacturer of modern micro mosaics. Baselworld 2012 will be the perfect occasion to be enraptured by SICIS' spectacular and magical reality, beyond anything one could possibly imagine.
SICIS Jewels will be at Baselworld, Hall 2.2, booth H80, March 8th – March 15th